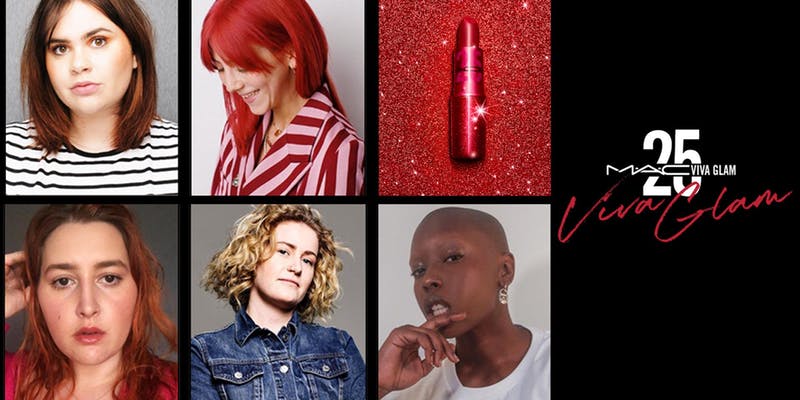 PINK PROTEST X MAC COSMETICS
Description
Join us in celebrating 25 years of VIVA GLAM, with a discussion on 'Women and Girls' by an inspiring female-led panel. Discussing all things 'Women and Girls' including gender equality, feminism and sexual health – the panellists will share their personal stories and expertise, whilst also answering Q&A's from the audience. Guests will also learn about the expanded mission of the ground breaking M∙A∙C VIVA GLAM fundraising model, which now supports Women and Girls and LGBTQ+ as well as continuing to support HIV/AIDS.
THE PANELLISTS
Lucy Partington, Stylist Beauty Editor: https://www.instagram.com/lucyparts/
Scarlett Curtis, Author, activist and co-founder of the Pink Protest: https://www.instagram.com/scarcurtis/
Grace Campbell, Activist and co-founder of the Pink Protest: https://www.instagram.com/disgracecampbell/
Honey Ross, Co-Founder of the Pink Protest: https://www.instagram.com/honeykinny/
Char Ellesse, Founder of Girls will be Boys: https://www.instagram.com/ellessechar/
EVENT TIMINGS
6:00– 6:25pm: Arrival
6:30pm – 7:30pm: Discussion and Q&A
7:30-8pm: Drinks and networking
VIVA GLAM
To date VIVA GLAM has raised over $500 million for the global fight against HIV/AIDS, helping millions of people. That's 9,713 grants to over 1,800 ground-breaking and innovative programs and organisations around the globe.
At the event, guests will get the chance to buy the exclusive new limited-edition VIVA GLAM 25 LIPSTICK.
The full RRP (less VAT) of VIVA GLAM II Lipstick, VIVA GLAM III Lipstick and the new, limited-edition 25th anniversary VIVA GLAM 25 Lipstick in the original VIVA GLAM I shade, will be donated to support the health and rights of people of All Ages, All Races and All Genders. We will make grants to non-profit organisations we believe can make a meaningful impact on health, rights and equality.
One VIVA GLAM lipstick buys:
1 rapid oral HIV test

1 pair of school shoes for a child orphaned by AIDS

1 resident at an HIV/AIDS housing organisation with a new job interview outfit

1 week of fresh fruit, vegetables and grocery essentials to a mother and child affected by HIV
TERMS & CONDITIONS
This is a free event and entry will be on a first come first serve basis.
Maximum capacity of 30 guests seated.
Arrive promptly to avoid disappointment.
View Event →